I've been trying to setup a simple workflow to migrate some data from our mongodb to a retool database, I have three steps.
Clear the retool database
Query our MongoDB
Loop and Insert rows with values.
With very small datasets (1,000 rows) there is no issue, however once I attempt to do a dataset like 20,000 rows it instantly returns the error Runtime error: exited workflow with code 139. Here is the loop that's failing. The mongo query populates in a few seconds, but every time I attempt to use the loop action it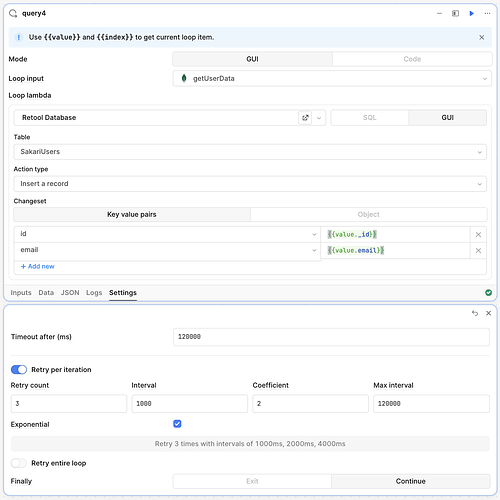 Is there more context for this error? Should I open a support ticket or is there something I'm missing? I understand Retool may not be the best resource to migrate data from noSQL to SQL, but I figured for a smaller dataset this wouldn't be too much.


Hopefully there's a workaround or something I'm missing, thanks!