Hi all,
I am new here, so forgive my inadequacy.
I have a table with requests in it, which I added an edit feature to, so the user can edit up to 3 cells in a single row, which then are "bulk updated" onto google sheets, which is my DB atm.
The thing I am looking forward to be able to do, is change another cell, which is the status cell, with any saved change to any of the 3 editable column cells.

The request is typically either approved or declined by a supervisor or just pending/waiting (empty status cell), so I want the change saved for any cell, to automatically remove the status of the edited request (row of the same cell), so the supervisor can re-approve or reject the request.
What I have in mind is; add a "status" key with the value " " to the changesetArray for each changed row (request). Is that possible? How?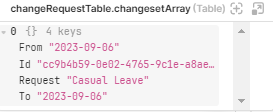 If not, is there any other way?
Thanks for your help.