Hello,
In the module, I have created an input for the end-users to control if a component is hidden or not in the parent application. I didn't select the Maintain Space When Hidden Layout Setting because I want the module width to be smaller when the end-users hide the component.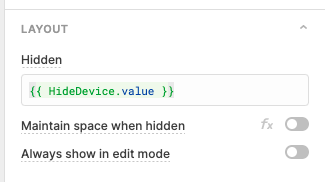 However, in the parent application, though the component is set to be hidden, the module size doesn't change and the hidden component still occupies space.


Would like to know how to dynamically change the module size. Thank you!