I'd love to find out there's already a way to do this!
It's possible to set a "Rating" widget to be 0-or-1 star and then use it as a UI element to control whether an item is "starred" or not so that we can remember to highlight that item for that user. (I've found that the built-in Retool database is a great way of storing these star associations!)
But in tables, the rating mechanism only allows for 5 stars and half-stars allowed — there's no way to use the component for "starring" specific rows, so the best I've been able to do is awkwardly put the star SVG in a button.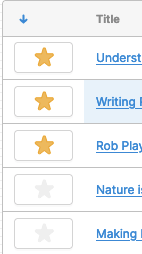 It would be great to be able to use the rating mechanism or some other functionality to add stars to table rows — and I'm curious if anyone else has come up with an alternative solution that handles this well!