Hey everyone,
I'm trying to trigger a JS query on the table save changes event handler, but it doesn't seem to be working.
I have it setup on the table config to trigger the query on the save changes handler, but when I add a new row, fill in the editable fields, and click the available "Save Changes" button, it just reloads the table without triggering the query.
I have stuck breakpoints in the JS file that retool generates for my query.
I have run the query manually and can confirm the query runs successfully, and hits my breakpoint.
I have tried on both Chrome and Safari, and I'm seeing the same issue.
An FYI, I am running retool on premise locally at the moment, I don't know if that is useful to know, but I wouldn't think it would change anything?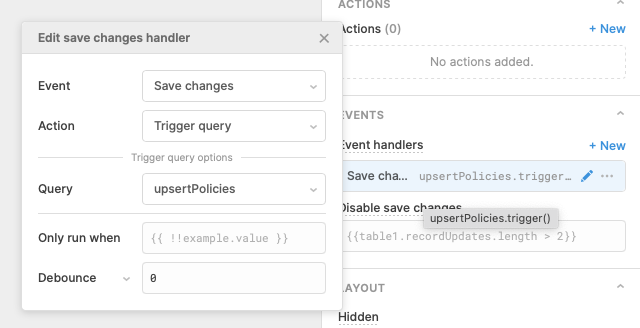 TIA
Cam