With the great help of AnsonHwang I was able to successfully run a "save action" on my table that updates several entries on my Retool internal database (link).
Now, I'd like to be able to programmatically "add more changes" to the instruction. Meaning: the table (table_orders) has the row "payment_status" (enum data type) and row "order_completed" (date data type). If the changesetArray includes the instruction to update a row's payment_status to "paid" I want to also update the order_completed with the current Datetime (in ISO 8601).
Not sure what the best approaches are here.
I've tried to:
Set a delay on the "updateRowTable" query.
Run a script that runs before the update and that adds the key-pay "order_completed: new Date().toISOString();" to the "table_orders.changesetArray"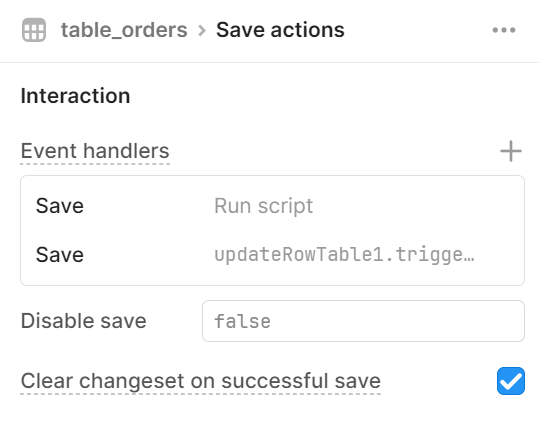 It did not produce the intent. Maybe I should also update the "table_orders.changesetObject". Would this approach work?
Or alternatively should I "not clear the changeset on successful save" and run an SQL query specifically to update order_completed after the save actions ran, and programmatically clear the changeset afterwards?
Or any other better approach?
By the way, afterwards I'd also like to trigger a email sent via SMTP to provide the user with a payment receipt.
Thank you for your tips
Here is the updateRowTable for reference: