I love ReTool and have always loved it!
But this has been an issue for so long that I saw myself sign up for 4 ReTool's competitors today with a view to migrate some of our Apps there, something I would have never thought I'd do for the past 3 years!
The Problem
Permissions
I have ~20 customer support agents that work offshore and need some sort of access to my ReTool apps. However, I don't trust them to have access to all of them, so I need the "permission groups and control access to apps" feature.
Latency
On the Cloud version, there is a strong, noticeable latency that makes most of my Apps unusable (or nearly so). This is 100% due to the network, which is responsible for a solid 300-500ms per request. Some features of my Apps go through multiple queries in cascade, so you can end up having 15-20 seconds wasted just in network wait time.
I'm therefore blocked on the self-hosted version. Which I really like and is great. It's hosted on a dedicated resource that sits in the same virtual network as the databases, hence the network cost is < 1 or 2ms.
Pricing
This is where my problem comes in. The self-hosted version only has a $10/u/m Starter pricing model, which doesn't include the permission & group features. The live chat (a year ago or so) mentioned you could use different folders, but this is obviously not a reasonable fix for basic trust reasons.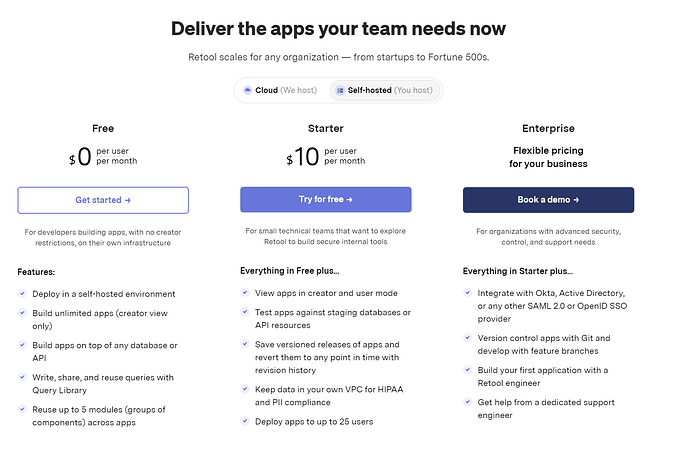 The Cloud version has everything I need in the $50/u/m Business plan, but for the Latency reason above, I cannot use it.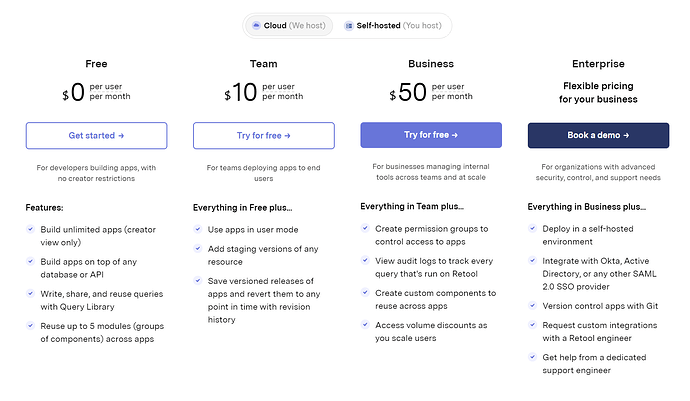 The last option I have is the Enterprise "Flexible" pricing, but the last time I spoke to a sales agent, they mentioned $60k a year of minimum commitment, which is difficult to justify for the only purpose of having the permission and groups feature (bear in mind, offshore customer support agents cost ~$200 to $400 / month)
Possible Solutions
Reduce the minimum annual commitment required for Enterprise to $5k or $10k, maybe have a self-served enterprise option at $5k. I don't need to (and would prefer not to) talk to a dedicated support engineer, account manager etc. Also don't need custom integrations, or if I do at some point, I'd gladly move to a full-fledge enterprise version.

Giving Permission groups & control access to Apps in the Starter package for self-hosted. This would solve many issues and I really doubt that it will cannibalize any full-fledge enterprise sales for self-hosted as it's limited to 25 users anyway.

Bring Business pricing to self-hoster.
I'm aware that pricing issues are very complicated and involve a lot of people, I just thought I'd submit this here for future discussions / reference if it can help, as ReTool has helped us a lot over the years.