I created some functionality which bulk updates selected column.
The navigation component looks like this: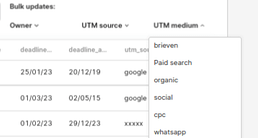 and is set up as such:

where each event handlers is triggered on click.
This works perfectly fine, except for the first item in the navigation menu. So all options works except for "brieven:". The problem is that the event handlers are simply not triggered, when brieven is selected. This is a reproducible bug, where it occurs for all components set up this way.
Has anyone encountered this behaviour?