Hello, in a table, we would like to set the Background color of a column typed as Checkbox.
For example here we would like to grey out rows that are excluded: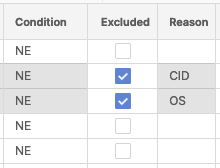 The issue is that it seems that the Background color property is not available for column types containing a component eg. Dropdown, Datepicker, Radio button or Text input.
Is there a solution for that ?