Hello Retool team & community,
I currently try to make deep linking work for one of my apps. I have one segmented control (named "re_filterToggle") with two elements and a table (named "re_contactList") from which I pass the values to the following states in the URL: contactType (either "tutor" or "student") and id (which is dervied from the row "contact_id" in the table).
To do so I have applied exactly the same approach as shown in your Docs (see following screenshot), but the problem is that once I load the app, the value of the URL parameter "id" disappears from the URL before any element on the app is even loaded and thus no row gets selected in the "re_contactList" table.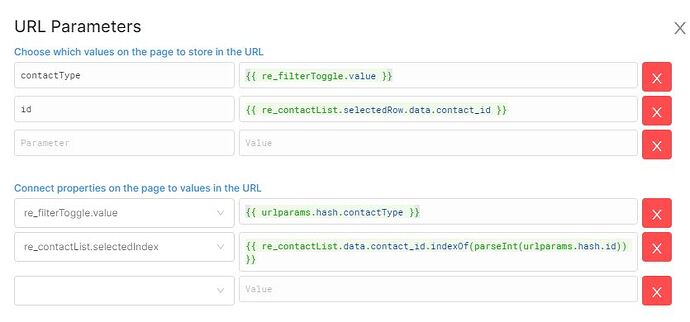 (To be clear: What works is passing the value of the segmented control and the selected index of the table to the URL. Also the segmented control behaves correctly, but it doesn't work for selecting the correct row in the table.)
UPDATE: I think I have an idea why this is happening: It seems that Retool at first updates the URL with the current selected row of a table. Obviously when loading an app either the table will not be loaded at all (as it takes some seconds to do so) or there is no row selected inititally. Then the hash in the URL gets reset to nothing/null and when the table has finally loaded the information is already lost which row should be selected.
I have tried several things but can't make it work. Would be great to receive some help on this issue. What am I missing here?
Thanks and best,
Timo