I have an app which is used in a series of apps that accept orders, generate picking tickets and then allow edits to the delivery that has been picked.
One process I have set up is the entry of label numbers which are placed on the product for state-required tracking of the product's origin.
I have a table that shows the original picking data (done currently on a paper form) and a separate linked form that allows the user to change any product quantities which might have changed due to availabilty or product quality. The user also enters the sequential tag numbers which have been affixed to the products. Most of the time this is a sequntial assignment, so if the user enters a number in the Tag Start field of the edit form, the Tag End is automatially calculated.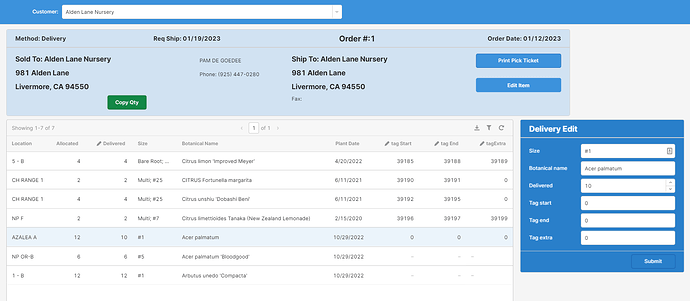 Occasionally, a tag might break during attachment and a replacement (which might be non-sequential) will be attached. The non-sequential tag is reported in the Tag Extra field.
Also, the tags are not always applied in sequence of the order list, so the user will need to highlight those plants receiving tags in order to maintain the numbering (at least from a reference standpoint)
This is working, but the process is pretty manual. I am looking to have the next number available when the user selects the Tag Start field. Ideally a message appears with the next number available, and the user can accept the input, which will complete the Tag Start, and the Tag End will update automatically. The tag Extra would still be a manual process, but it would need to be accounted for in whatever process derives the next tag number (e.g. Max Tag Number +1).
I am using a MySQL database and can set up a view that would automatically update the nextTag value, but I want to ensure that once that value is used and "posted" to a table row, it won't be changed when the next row is processed.
Would a better approach be to use a Transformer to derive the next tag number? If so how do I ensure the numbers are posted correctly? Any input would be greatly appreciated.