I've created an Open API resource and provided an API key, but it looks like Retool is making all requests without the API key.
Here's the Open API spec I'm using:
https://gist.githubusercontent.com/rohansingh/06007cba8872efe81e932b601e87ac48/raw/325034b6a0bed57e43a4c081b54da1af1fbb1408/app-server.json
You can see that API key security is defined in the spec, and I've selected it in the resource: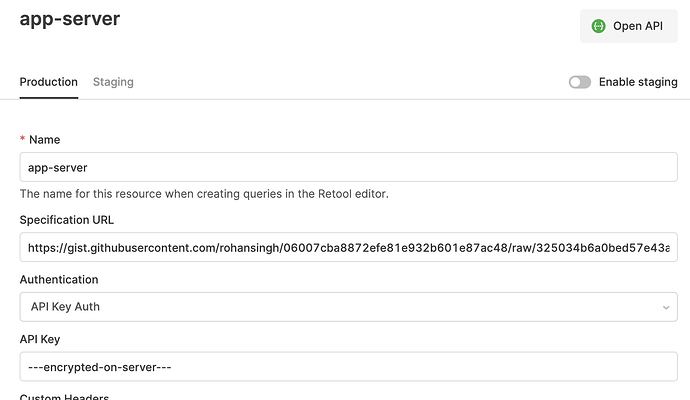 Based on the spec, Retool should send the API key via the key query parameter on all requests. Unfortunately, I can see from my server request logs that Retool isn't sending the key at all, so the requests are denied.
I've also tried adding the key to the Custom Query Parameters section of the Open API resource definition, but that has no effect either. In both cases, Retool is making the requests without sending any query parameters at all.
Anyone know how to get auth working with an Open API resource?