Hello! My team is trying to figure out how to self-host on using Heroku and even though we have followed the documentation we are unable to get it working and would love any guidance on the issue.
First we tried to single-deployment button that can be found on the tryretool/retool-onpremise git repository here.
We put in our license key and set USE_GCM_ENCRYPTION to true, then hit deploy. On the step "Configure Environment", we run into an issue for which I've added a screenshot: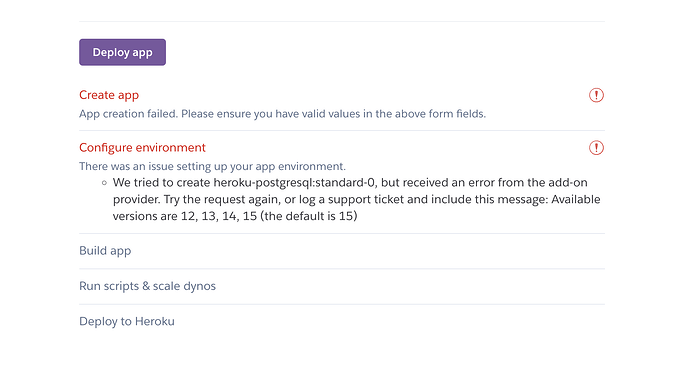 After the single-button deployment didn't work, we started on the manual process, also following the directions closely to set the proper environment variables. After that we saw the following error message relating to a missing pg_hba.conf entry.

We then added the following config variables hoping it would solve the issue: POSTGRES_DB, POSTGRES_HOST, POSTGRES_PASSWORD, POSTGRES_PORT, POSTGRES_USER (the credentials of which we got from the postgres instance created by heroku). That still didn't work.
Then I updated the Dockerfile from FROM tryretool/backend:X.Y.Z to FROM tryretool/backend:2.117.7 in an effort to use the most recent self-hosted retool version.
The error message remained the same.
Are we missing a step or incorrectly setting an environment variable? or something else entirely? We would love some guidance here as to how we can get retool self-hosted on Heroku!
I'd be happy to provide any more details of our environment if need be.