I have a Rest API resource setup with custom auth to Azure GraphQL using client credentials flow.
I don't seem to have any issues with it when testing on the desktop or in Edit mode.
I have two users - one is a full admin, and one only has read/use access on certain resources and apps. I couldn't seem to get the resource to Authorize on the mobile app when logged in as the read only user.
I made sure that in the settings the user had full access to use the resource, and the app itself set to 'edit'. No matter what combinations I tried, reloading the app etc. I could not seem to get the Authorization to go through. I finally tried setting the secondary user to 'own' on the permissions page - and now all seems good?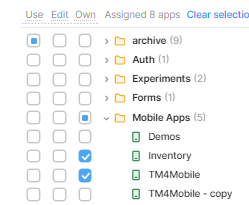 Not sure what 'own' vs 'use/edit' means here. Is this normal? I guess another wrench to throw in is that when testing this from some other users devices before making this change it WAS authenticated - but seemed unreliable. Am I just missing something here?
Thanks!
-Matt