Hi All,
i really hope somebody can help me, I am using the workflow option and have some issues I really want to get sorted

I am using the retool database, in the workflow I get a list of ean numbers, then I loop through a rest api and get the ean information based on the list from the database. So far so good, works fine when I have around 150 to 250 records. When I have more the api returns bad data and I am not able to push it to my other database. I have tried to add delays to get the rest data but that does not really help or it will be to slow and retool will give a time out.
So based on below screenshot, does anybody know how I can loop this? I now added a slice of 150 records, I would like to get 150 records, update the database, get 150 records, update the database etc etc.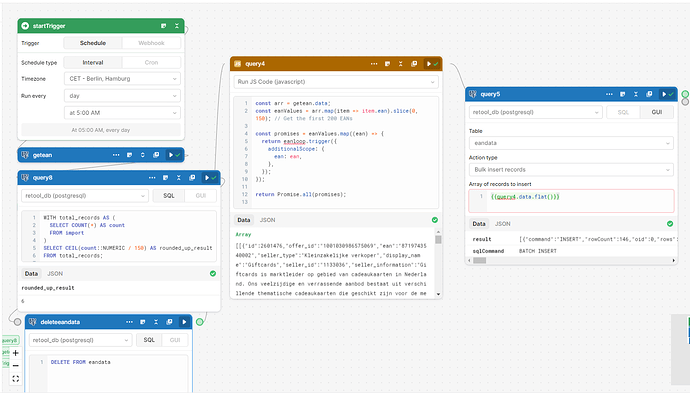 I added a count result that I might be able to use to see how many times it should loop the 150 records, not sure if that's the way to got, I am a bit stuck

WITH total_records AS (
  SELECT COUNT(*) AS count
  FROM import
)
SELECT CEIL(count::NUMERIC / 150) AS rounded_up_result
FROM total_records;