Hello,
We are using Retool Cloud.
We have the beta "environments" feature enabled, and we have 4 environments: 1 Production for ourselves, one Staging for ourselves, and two Production for clients.
I've created a new Google Sheets resource and authorized it. The setup has worked in our Production Retool environment and I'm able to query data as expected: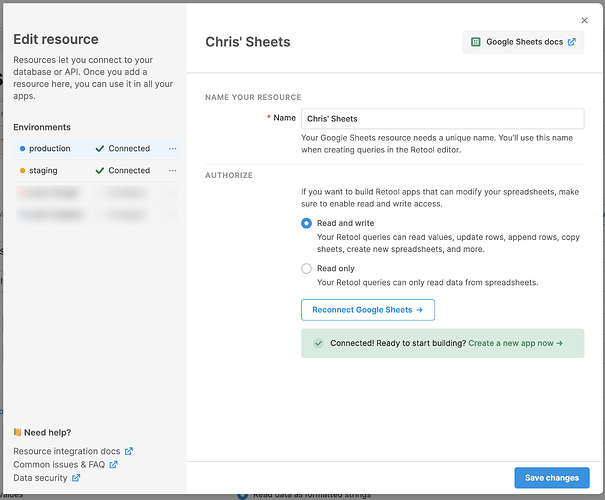 However, it's not working in our other environments. For instance, when I click the "Connect to Google Sheets" button in the Staging environment tab, I go through the Google authorization flow but the changes do not stick. When I refresh Retool it continues to ask me to "Connect to Google Sheets".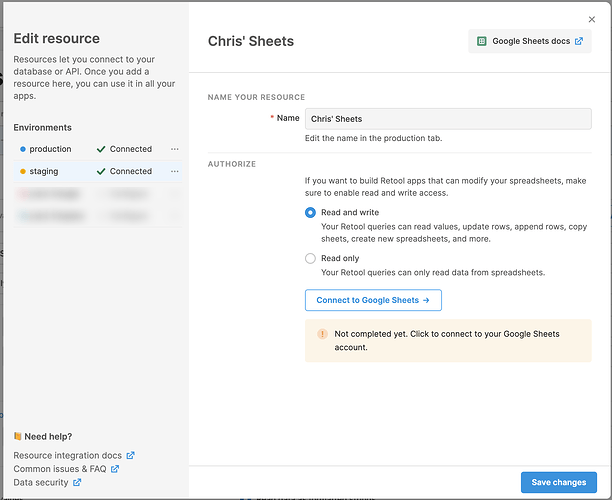 This then leads to a permission error when I attempt to perform any query with the Google Sheets resource:
This effectively makes the Google Sheets resource work only for the Production environment, which is a problem because we do our Retool development against Staging (in order to preserve Production data integrity).
I'm curious if this is a known issue, and if so if there is a fix in the pipeline and/or if there are any known workarounds?
Best,
Chris