I have created a table which I am using to populate a form to allow for updating records. When a row is clicked in the table, I populate the form with Select Row->Form.Set Data. I am setting it to table.selectedRow which has 10 keys.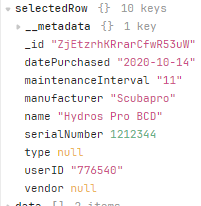 When I look at the Form's State, under data, it only has 7 keys.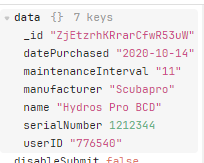 What controls this set of data that is included on the form? It's different from "initialData" for some reason, but initialData does not get updated when we call SetData.
I am trying to swap out several of the fields in the form to use a Select input so that the user can select from these choices. I think this is the root of the problem. If I stick with the autogenerated fields it works OK. But once I make that change, the Form no longer seems to populate the data with the values for these fields. It like it does not know these Select items are "inside" the form"
When I look in the Component tree they are indeed inside the "Body" of this form.
I have set the Form data Key on each select item. For example, for the field called "type" I set it to type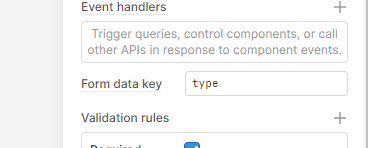 Any ideas? What am I missing seems like this should be simple.....