Hello all,
I have a table on my application which has data that was drawn from a Google Sheet API. I want to do some calculations on this column and generate a new column with the calculated values.
I want to return 60 if the column value is greater than 12, and return value *5 if it is not.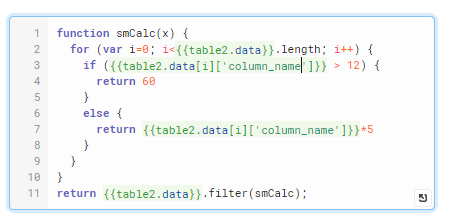 When I run this, all the values return as '[]'.
I would also like to note that I have tried to follow this forum (Apply transformer for each row in table - adding new column - #2 by chris-g) to no avail.
Any advice is greatly appreciated. Thank you!