Hello Retool Community,
I'm working on an application on Retool now for quite some time and until today I have circumvented one problem that I just couldn't figure out myself and I hope that you can help me with this!
In short, the application I'm developing is used for matching students and tutors for tutoring classes. Every student and teacher can have several subjects (e.g. Mathematics, Biology, etc.) attributed to them that they either demand or offer. So, this is a m:n relationship that is represented in my database scheme through the tables "students", "demands", and "subjects" (graphic shows only the abstracted scheme for the students relevant to my question):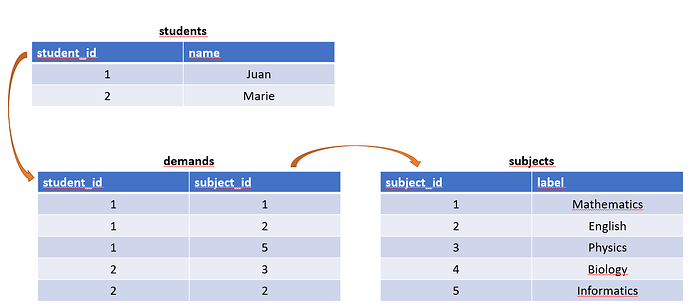 In my application it is possible to edit all information about existing students and teachers (e.g. name, birthday, city, etc.) as well as the subjects attributed to them. The former is already implemented, but the latter is something I can't wrap my head around. As you can see in the next screenshot this editing is done within a big form that includes several elements, where the subjects are currently represented by a checkbox group that can be seen at the end of the following image (sorry, labels only in German):
[[I can't add two pictures in this post as I'm a new user, so I'll add it in a follow-up comment to this post.]]
Loading the information is no problem, but I need help on how to save changes for this checkbox group to the "demands" table in my database. There are several possible scenarios that can occur:
Additional subjects are added
Subjects are deleted
Additional subjects are added and other subjects are deleted
By the way, the database is a MySQL database.
I hope that someone can help me with this problem and I'm looking forward to your suggestions!
Thanks and best regards,
Timo