I am just trying out Retool Storage for the first time.
I am developing an app in staging, and added some images to the Storage (via dropping them in the Image component). I can see them listed in the Resources/Storage area, but that only seems to be for the Production environment.
I don't see an option in Resources to create a Storage environment for staging. I see environment options in Database, AI, and Email, but not for Storage or Vectors.
Am I looking in the wrong place, or is this not currently possible?

What I want to do was write a query, so the image displayed is dynamic (within a listview) depending on the list item value.
To do that I believe I need to create a resource query of the items in Storage, and reference the results. This is where the error about environments is shown.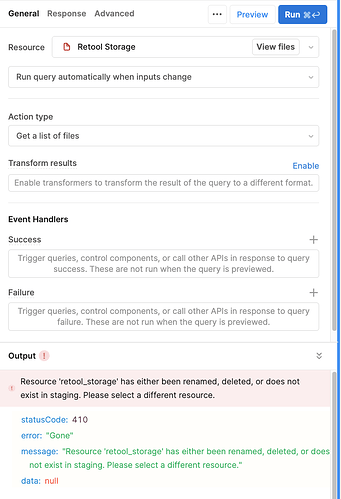 After creating the query, the app is then "locked" into Production, as the storage resource doesn't exist in staging. When I delete the query, I can switch back to Staging.