Hi
I am a bit stuck with reformatting tempState data back into an array to display it properly in a table.
My app setup is simply: A user can query our API for products, select one product from a table to add this product then to a "Selection table" on the right.

I am using tempState to save each selection in chronological order. Here is the example for two entries: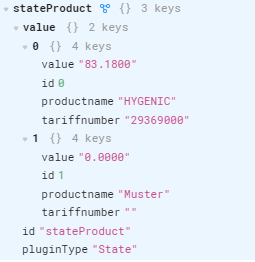 I have used map() to structure the data into an array to display it properly in the right selection table. The only working version I managed so far is to access one single entry and to display it properly:

How can I iterate through each key of my tempState to display the two product of my example in my selection table? I have tried a FOR loop and different variants with MAP etc. somehow I have been running in circles for over 2h. Does anybody have a hint?