I am using the legacy table rendering 1200 rows, 12 columns from a query json source. Upon refresh or reload of the page, I get these stats which are quite unexpected: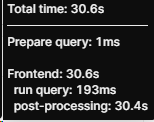 I have client-side pagination (the only one working with BigQuery) but there is only one component, that table, to update. So I was expecting more like 1 or 2 sec max.
Any clue on what may be wrong ?