We are using Dropbox Business and they have this feature where you could use the query parameter "raw" and pass it with the value "1" to force rendering the PDF in a Browser.
Here is a official Documentation for this feature: https://help.dropbox.com/en-en/share/force-download
I tried to use this in retool and I have some issues with it.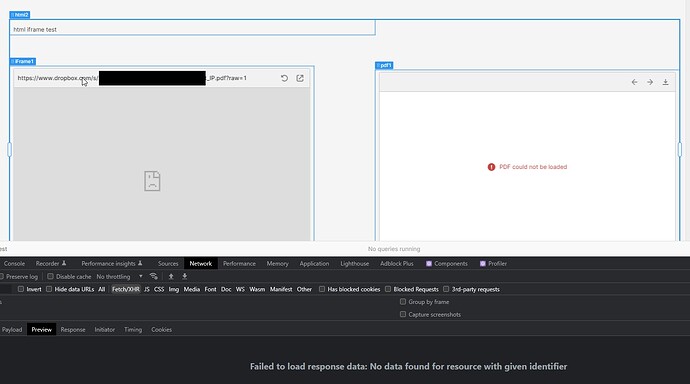 As you can see in the screenshot I tried to load it in a PDF field which doesn't work because under the hood dropbox tries to reroute or more specific http redirect the browser which doesn't work in a data field. In the HTML field I used the following markup:
<html>
<body>
    <iframe
        src="https://www.dropbox.com/s/###################_IP.pdf?raw=1" frameborder="1" scrolling="auto"
        height="1100" width="850">
    </iframe>
</body>

</html>

But it doesn't even load the HTML page. However this works perfectly fine if I try this locally. It runs in chrome v108 and firefox v108 as well.
The third option I tried was the iframe module. And this one is weird. In Chrome its blocked by chrome, which I don't understand because as I wrote before, its loading if I run this html page locally and I even tested it online and it also works at render.com.
However if I load this retool site in firefox the PDF in the iFrame Module loads just fine where as the iframe in the html-module still doesn't work
Is there anything you could do or change to make the PDF load in the iframe module on chrome and / or the PDF Module and/or the html module?
If not which service do you recommend to save PDFs online?