Hi there,
I'm very new to retool, so please bear with me. I have a table, and in the table is an image column. The type is set to imageURL. In the column are the url's of the images I would like to be displayed.
I have put an image component where I want it to be and set it up like this: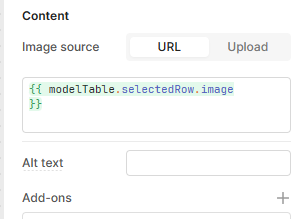 The images are displayed as very small thumbnails in the table, but I ideally want to hide that column and have them displayed in the larger box. Can anyone explain why it is not working and how to fix it, please?