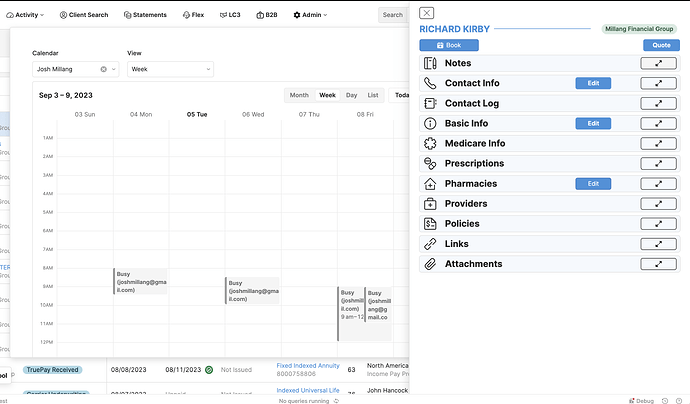 So in this example, in my App I use a drawer object that contains a single module "Client Profile." The "Client Profile" module has several modals within it that almost always contain a single module themselves.
In this particular screenshot, I'm looking at a Client Profie, and I then open up the "Book" Modal, which contains another module "Booking."
What ends up happening is an unexpected layering - the modal "Book" ends up under the drawer. This causes some issues:
1). User can't see full Modal if it's too large
2). "Click outside to close" behavior gets fudged - I can't remember exactly what happens but I think I remember that the windows will close in an unexpected order.
3). Modal close button gets hidden
I'm working around it generally by making my modals smaller - but there's a lot of cases where this doesn't work great. Sometimes the user has the browser on half their screen (splitscreen) or the modal just can't realistically be shrunk (like the Booking calendar). I also need to use custom buttons or keyboard shortcuts so I can guarantee the user can close the correct windows - not amazing.
Our app is pretty big (500+ components on this particular page), so the module hierarchy is really important to keeping it reasonably organized and realistically editable. I'd definitely prefer not to de-modulize it.
Possibly this is just a bug?
Edit: It actually works fine / as expected in preview. The issue only arises when looking at the live, published page.