I created a html component: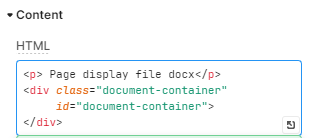 and a select file input component.
When I select a file from browser, will call query below:
let currentDocument = null;
const container = document.querySelector("#document-container");
currentDocument = fileButton1.files[0]; 
if (!currentDocument) 
  return;

console.log(fileButton1.files[0]);  
docx.renderAsync(currentDocument, container); 

When I run. The console raise error:


I think the reason is because the file has been encoded in bas64.
How can I decoded file?