Running Retool Cloud,I gave the GUI bulk insert to BigQuery another try, and again, it turns into an endless loop. None of the Retool safeguards worked: timeout (supposedly 10s), no error message, no console message.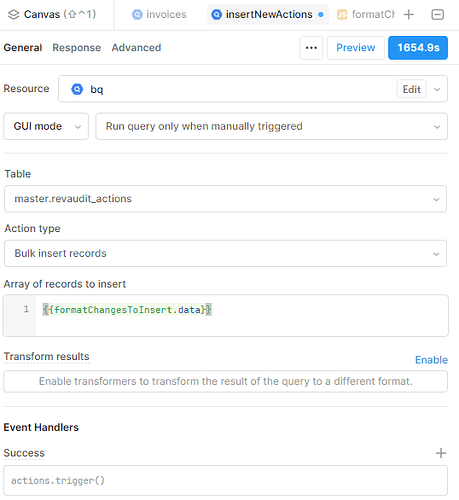 Facts:
BQ is not called, yet - as nothing in the GCP logs (should see job insertion)
the formatChangesToInsert() function (massaging table changes) is not called as it should write to the console - nothing in it
AlaSQL not the culprit as the above function has not passed the result yet
Closing/reopening the project and the browser does not help
most annoying: sometimes it works ! Seldom though
Out of thought on how to debug further... Any help is appreciated, in the meantime, I will code for individual SQL inserts - much slower.
Note: SQL bulk insert is no option as complex to implement - the GUI mode nicely parses array of objects and fills with DEFAULT for any missing fields.