Hi, we're running into an issue with Retool queries where mysql DATE and DATETIME columns (which are stored without timezone in mysql) are being converted to an ISO timestamp with timezone added. E.g., querying in mysql for a column of type 'date' would return:
select my_date from my_table;
+------------+
| my_date    |
+------------+
| 2021-04-19 |
+------------+

Where, the result in retool query response for the same field, with the same date is: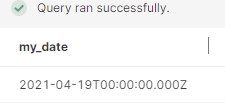 The latter being incorrect, it should be interpreted without a timezone. The usual fashion for a date or datetime column is to have timezone data stored somewhere else, and use that for conversion (in this case, the timezone is application-specific). This is requiring us to re-cast 100% of our date fields.
Is this expected behavior, or a bug?