Hello all,
I am trying to fetch data (all users of my Firestore database) in my retool app.
As there are obviously too many entries, I want to set up a server side pagination (as explained here : Setup of paginated query for firestore - #9 by Chris-Thompson) but I can't fetch other users than the first ones.
get_all_users is the Firestore query and users_in_scope is the concerned table.
Here is the Firestore request:

Here is the pagination section of the concerned table: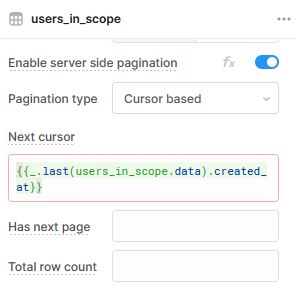 Here are the results, the 1st page is correctly displayed:
but when I try to display the next one, this is the error I get:
Am I missing something?
Thank you for your help!
Adrien