Hi ReTool Team! For starters, developing apps is NOT my full time job. I developed most of the apps that my team needs with queries, related tables and all CRUD functions operating. This last app is a little over my currently, so any guidance with this query and/or concept/flow of this app would be greatly appreciated.
This app "Assessment" has an initial job creation section (working fine). This initiates the job with basic info and creates the job id# (main table id).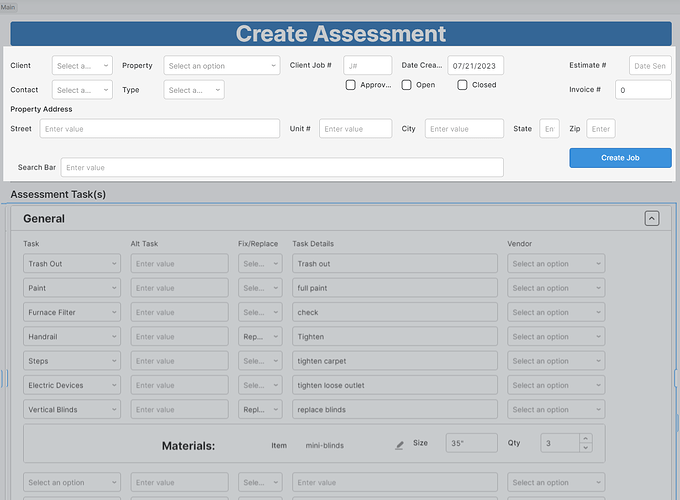 The rest of the app is multiple inputs with data entered by the tech out in the field. These are broken down into categories (general, exterior, bedroom 01, etc). Each category will contain generally 10 separate line items (hopefully not more). Each line item data will be stored as a new record in a related table as outline in red in below screen shot.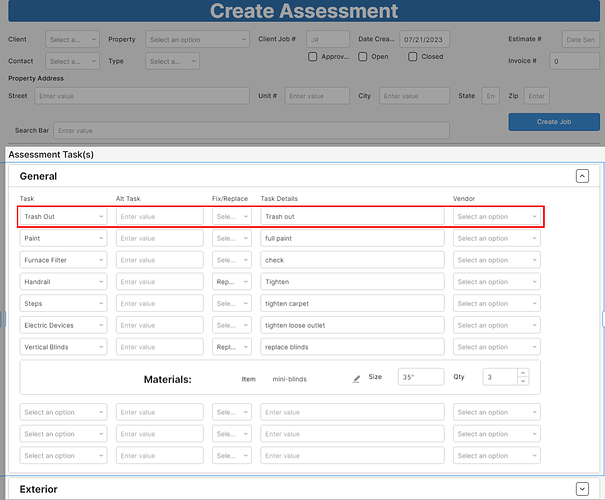 If an item requires more details (Materials in this case as in the 'Vertical Blinds' line item, the data entered into that hidden container will be entered into a separate related table as it's own record).
I'm at a loss where to even begin with this. I did find this post by Chris-Thompson (Retool Team): https://docs.retool.com/docs/scripting-retool#triggering-a-query - I'm not quite comprehending this yet, but will continue to work with it if this is my best option.
Any guidance would be VERY helpful. Thank you in advance.
Mike Cash